Switzerland! Vicpas touch faster shipment and good quality, customer from Switzerland want to re-order again.
Issue Time:2016-09-29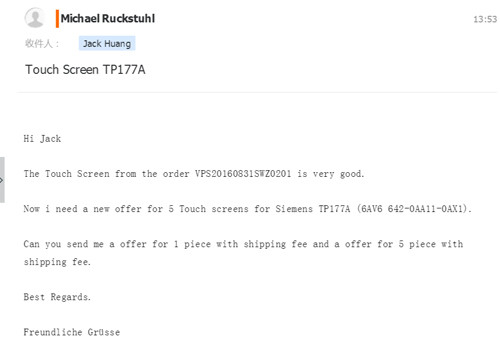 Hi Jack

The Touch Screen from the order VPS20160831SWZ0201 is very good.

Now i need a new offer for 5 Touch screens for TP177A (6AV6 642-0AA11-0AX1).

Can you send me a offer for 1 piece with shipping fee and a offer for 5 piece with shipping fee.

Best Regards.

Freundliche Grüsse

Michael

thanks for michael to select Vicpas again, your satisfy and trusted bring us much power to provide high quality product and service. we are sure we would build up a long term business relationship in the coming future.
Get in TouchWith Us
company address: 5Floor-17. NO.332. Gangkou Road, Xin Tang Town, ZengCheng, Guangzhou City, Guangdong Province, P.R.China
GUANGZHOU VICPAS TOUCH TECHNOLOGY CO.,LTD
Tel/Fax: +86 158 7652 5394
sales@vicpas.com