For DMC Interface Touch Screen Glass Repair
DMC Resistive Single-Touch

DMC Interface with Touch Information: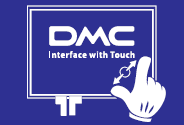 DMC Resistive Single-Touch
DMC is a touch screen manufacturer that has over 20 years of experience in Japan.
DMC has been in particular focused on industrial facilities, and become a leading company here achieving more than 50% share in this market in Japan. With 40% of DMC total production exported to overseas, especially European areas, DMC is respected internationally.
DMC provides Japanese quality that is renowned for it's high reliability, flexible response, responsive support system, and wide range of solutions.
4wire Resistive Touch Screen
A 4wire resistive touch screen is a very simple touch sensor that uses dual layers of a flexible, conductive material that deforms under a touch and the layers make contact, the position of this contact is determined by the change in resistance of the circuits. A 4wire type resistive uses 4 electrodes, one along each edge, and the touch controller alternates between sensing x and y axis readings using electrodes on opposite sides to carry a voltage difference and one of the adjacent electrodes to sense the touch.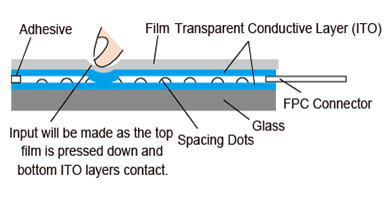 5wire Resistive Touch Screen
5wire Resistive Touch Screen is Highly Durable
When the top ITO film is pressed and makes contact with the bottom glass, the contacted area will be detected via electrical conduction. The notable characteristic of 5wire resistive is that only the bottom glass has detecting function. Even if the top ITO film is damaged, the detecting function will not be affected (except for the damaged area).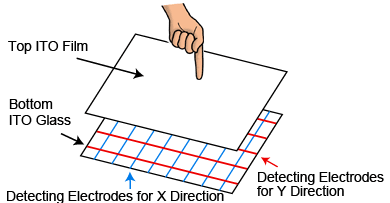 DMC Resistive Single-touch Type:
VICPAS Resistive Touchscreen
Vicpas provide all kind of touch screen for HMI panel repair/replacement, we are working close with lot`s of automation and electric repair company from all over the world, Euro, North America, South America, Middle East, Asia, Africa and Australia etc, all of them stock the safety stock quantity make sure your HMI panel could be fixed in no time, all the touch screen spare part are brand new, good quality with 365 days warranty. If you are interesting, you could replace the touch screen from the HMI panel by yourself, very easy. ( How to install touchscreen ), very competitive price and we will ship by DHL express, normally only take 2-5 working days to reach your hand, you don`t need to wait a long time.
| | | |
| --- | --- | --- |
| If you need more details, please | | without hesitate. |
VICPAS provide all DMC Single-touch for replacement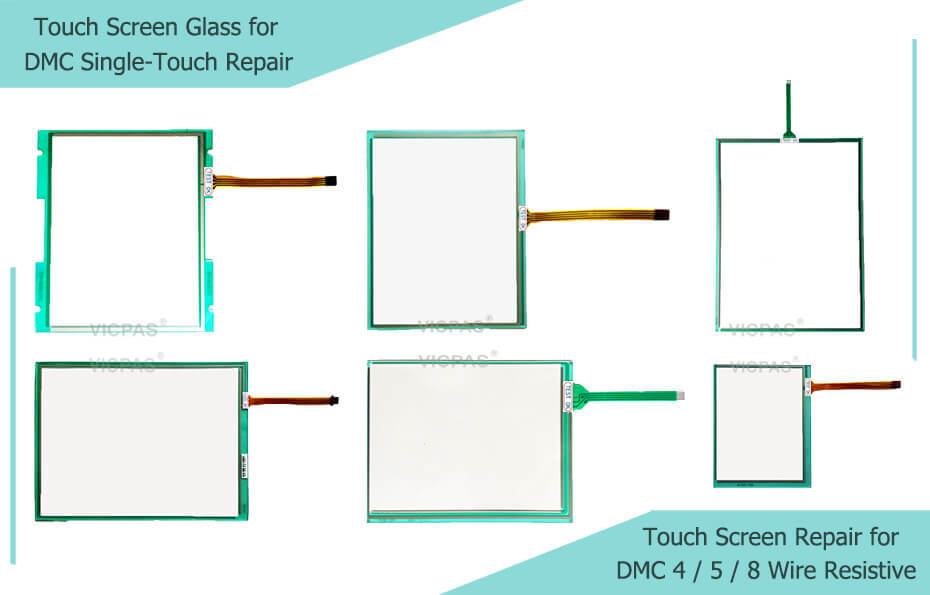 Part N0.
Size
Part N0.
Size
AST / STP Series
AST-038A050A
3.8"
QST Series
QST-057A075H
5.7"
ATP-047
4.7"
QST-070WA075H
7"
AST-057A070A
5.7"
QST-085WA075H
8.5"
AST-065B080A
6.5"
QST-104A075H
10.4"
AST-084A080A
8.4"
Learn More
AST-104A080A
10.4"
FST Series
FST-T104C110A
10.4"
AST-105A060A
12.1"
FST-T121C110A
12.1"
AST-150C080A
15.0"
FST-T150C110A
15.0"
AST-190A140A
19.0"
FST-T170C110A
17.0"
Learn More
Learn More
If the above form doesn't have the modle you're looking for, feel free to
contact us
immediately. Vicpas will provide the best solution for you.
Do you want to quickly know the product quotation you need?
Fast Quote
Worldwide Shipping
12 Months Warranty
Customize Service
Please send your message to us