EZ-T10C-F touch screen for EZ automation touch panel repair from UK.
Issue Time:2017-10-21
Thanks Paul selected and ordered touchscreen, membrane, lcd display for EZ-Automation HMI touch panel repair.
Paul is working for a great company which mainly repair all kinds of automation equipment, specially for HMI touch panel, for the past 7 years, his company has ordered thousands of touchscreen, overlay label, membrane keyboard, lcd display for fix their faulty, broken or damaged HMI panel. Satisfy with our product quality, quickly respond, competitive price, fast shipment and excellent after-sales service, we will keep on provide high level product and service and try our best to increase our customer's business.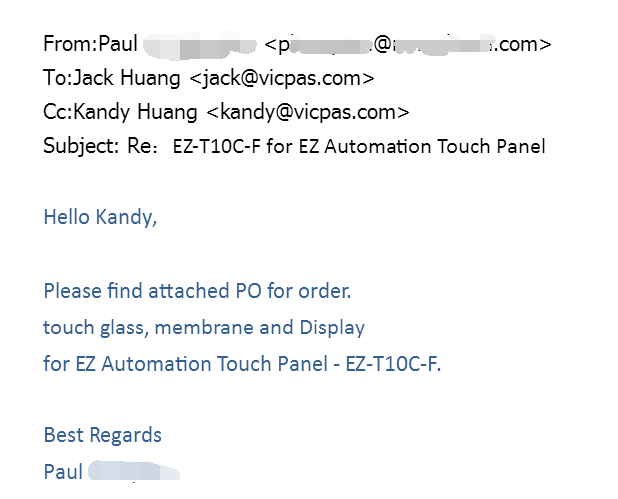 Vicpas provide all kind of touchscreen, membrane keypad and lcd display for EZ-Automation HMI touch panel repair/replacement, here is some of the product number:
EZD-T4C-FSE
EZ-T4C-FSE
EZD-T4C-FS
EZD-T4C-SE
EZ-S6C-ES
EZ-S6C-FH
EZ-S6C-FSC
EZ-S6C-FSD
EZ-S6C-FSE
EZ-S6C-FSE
EZ-S6C-FST
EZ-S6C-KS
EZ-S6M-FSD
EZ-S6M-FSE
EZ-S6M-FSP
EZ-S6M-RS
EZ-T6C-FSC
EZ-T6C-FSE
EZ-T6C-FSH
EZ-T6C-FSU
EZ-6SLIMF-GSK
EZCD-T6C-EC
EZC-T6C-ED
EZC-T6C-EU
EZ-S6M-FS-RMC
EZTCC-T6C-E
EZ-S8C-FP
EZ-S8C-FSE
EZ-S8C-FSH
EZ-S8C-FT
EZ-T8C-FH
EZ-8SLIMF-GSK
EZCD-T8C-E
EZCD-T8C-EH
EZC-T8C-EH
EZC-T8C-EU
EZ-T10C-FC
EZ-T10C-FH
EZ-T10C-FSE
EZ-T10C-FSM
EZ-10MT-S
EZ-10SLIMF-GSK
EZCD-T10C-EH
EZC-T10C-EC
EZTCC-T10C-E
EZW-T10C-EM
EZ-12MT
EZ-12MT-S
EZ-T15C-FSD
EZ-T15C-FSU
EZ-15SLIMF-GSK1
EZ-17MT
EZ-17MT-S
UT-IPPLP-19
EZW-T15C-ED
EZC-T10C-EH
EZP-T8C-FS-PLC
EZP-T8C-FS-PLC-E
EZP-T8C-FS-PLC-RMC
EZ-T8C-FS
EZP-S6M-FS-PLC
EZP-S6W-RS-PLC
EZP-T6C-FS-PLC-D
EZP-T6C-S-16-8R
EZC-T10C-EM
EZPP-T10C-FS-PLC-E-RMC
EZPP-T10C-FS-PLC-P
EZP-T10C-FS-PLC-P
EZPP-T6C-FS-PLC
EZPP-T6C-FS-PLC-E-RMC
EZPP-T6C-SE-PLC
EZPP-T6C-S-PLC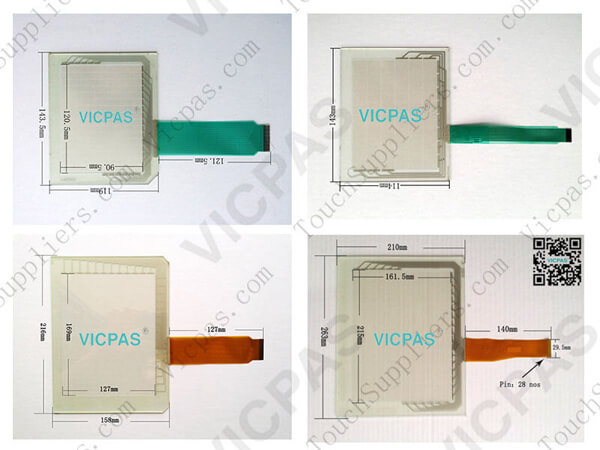 | | |
| --- | --- |
| no found or need more details, pls to | |
Get in TouchWith Us
company address: 5Floor-17. NO.332. Gangkou Road, Xin Tang Town, ZengCheng, Guangzhou City, Guangdong Province, P.R.China
GUANGZHOU VICPAS TOUCH TECHNOLOGY CO.,LTD
Tel/Fax: +86 158 7652 5394
sales@vicpas.com