6ES7272-1BF00-7AA0 Siemens SIMATIC TD100C Membrane Keyboard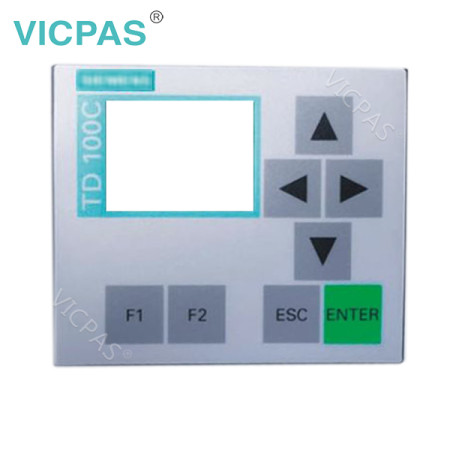 | | |
| --- | --- |
| Categories | SIMATIC TD Series |
| Album | View larger image |
| Brand | VICPAS |
| Model | 6ES7272-1BF00-7AA0 |
| Brand | Siemens |
| Product Line | Siemens TD 100C |
| Warranty | 180 Days |
| Supply | Siemens TD series membrane keyboard |
| model | 6ES7272-1BF00-7AA0 |
| FOB port | Guangzhou, Shenzhen, Hongkong |
| Terms of Payment | Western Union, MoneyGram, T/T, Paypal, PayPal, Credit Card |
| Update Time | 2019-10-21 |
6ES7272-1BF00-7AA0 Siemens SIMATIC HMI TD100C Membrane Keyboard Switch Repair Replacement

6ES7272-1BF00-7AA0 Front foil TD100C, unprinted Front foil TD100C, unprinted Frontlayouts Further information, Quantity and content: see technical data
The S7-200 TD devices provide a low-cost human-machine interface (HMI), allowing anoperator or user to interact with your application.
The TD devices allow you to configure a set of hierarchical user menus to provide additionalstructure for the interaction with your application. You can also configure the TD device todisplay alarms or messages that are enabled by specific bits in the S7-200 CPU.
VICPAS supply 6ES7272-1BF00-7AA0 Siemens TD100C membrane switch with 6 months warranty and support Urgent Worldwide Shipping.

Specifications:
The table below describes the parameters of the 6ES7272-1BF00-7AA0 Siemens TD100C HMI Parts.
| | |
| --- | --- |
| Part Number : | 6ES7272-1BF00-7AA0 |
| Programming: | STEP 7 V5.2 + SP1 |
| Firmware version: | V2.0.12 |
| Warranty: | 180 Days Warranty |
| Product Line: | Siemens TD100C |
| | |
| --- | --- |
| Rated value (DC): | 24 V |
| Number of digital outputs: | 16 |
| Design as touch screen: | No |
| Keyboard fonts: | US English |
| Number of analog outputs | 2 |
Siemens TD100C series HMI Manuals PDF Download:
FAQ:
Question: How to configure 6ES7272-1BF00-7AA0 Simatic TD100C with Protool ?
Answer:The configuration for your TD100C is created on a computer (PC or PU) usingthe ProTool configuration software under Microsoft Windows. Once theconfiguration is ready, it is downloaded to the TD. For this you have to connectyour computer to the TD. After the configuration has been downloaded,you have to connect the TD to the PLC..

Question: What is the 6ES7272-1BF00-7AA0 Siemens TD100C mebrane switch and shell HMI parts price?
Answer: Submit a fast quote, send VICPAS an email for best price.
Common misspellings: 
6S7272-1BF00-7AA0
6E7272-1BF00-7AA0
6ES272-1BF00-7AA0
6ES772-1BF00-7AA0
6ES722-1BF00-7AA0
6ES727-1BF00-7AA0
Do you want to quickly know the product quotation you need?
Fast Quote
Worldwide Shipping
12 Months Warranty
Customize Service