DMC ATP-104A ATP-104A060B Touch Screen Panel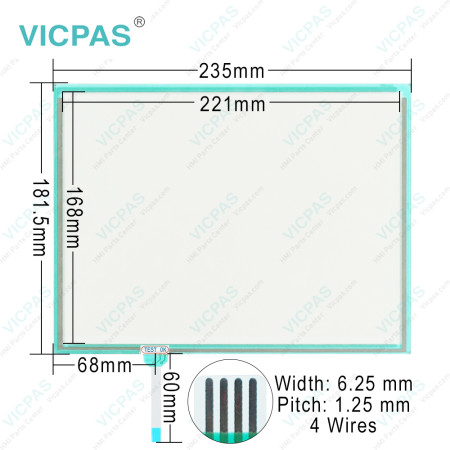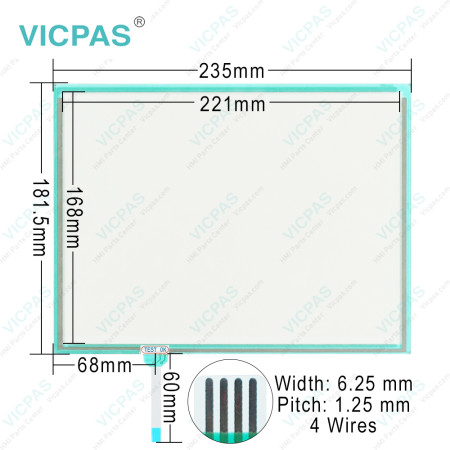 | | |
| --- | --- |
| Categories | ATP/AST Series |
| Brand | VICPAS |
| Model | ATP-104 ATP-104A ATP-104A060B |
| Touch screen panel type | Resistance touch screen |
| Size | 10.4 inch |
| Warranty | 365 Days |
| Shipping | 2-3 working Days |
| Modle | ATP-104 / ATP-104A / ATP-104A060B |
| Tail Length & Position | 60mm (Top Side) |
| External Dimension(E) | 235.0 x 183.0mm |
| Glass Thickness(Total) | 1.8mm (2.1mm) |
| FOB port | Guangzhou, Shenzhen, Hongkong |
| Terms of Payment | Western Union, MoneyGram, T/T, Paypal, PayPal, Credit Card |
| Download DOC | |
| Update Time | June 5,2023 |
DMC ATP-104 ATP-104A ATP-104A060B Touch Screen Panel Original Repair Replacement

The ATP-104A060B work Maximum Voltage DC6V with 100mA Top Electrode, Bottom Electrode 100mA, Between the Top and Bottom. Tail Length & Position 60mm (Top Side), External Dimension 235.0 x 183.0mm, Glass Thickness(Total) 1.8mm (2.1mm).The touch screen type is analog resistive 4-wire. Highly durable and versatile. Operation is guaranteed up to as many as 10 million strokes (4-wire type)/ 35 million strokes (5-wire type).

VICPAS supply DMC ATP-104A 10.4 inches Touch Screen Panel Glass Original for repair replacement. All of them with VICPAS 365 days warranty and support Urgent Worldwide Shipping.

DMC ATP-104A060B touchscreen panel work Operating Temperature: -20 °C to 70 °C (no condensation), Operating Humidity -20°C to 60°C Less than 90%RH (no condensation) Exceeding 60°C 133.8g/m3 (no condensation).

At mounting the ATP-104 ATP-104A ATP-104A060B touchscreen, refer to the separate document, [Resistive Touch Screen Mounting Guidance]. The appropriate structure differs according to ATP-104 ATP-104A ATP-104A060B touchscreen size, LCD, chassis design, usage environment and so on. Please conduct the evaluation with actual products at the trial stage, and confirm that your structure is appropriate prior to fixing the structure design.Handling Notes
・Do not depress or scratch ATP-104 ATP-104A ATP-104A060B Touch Screen Monitor with any object with a sharp edge or end. → Do not depress or scratch ATP-104 ATP-104A ATP-104A060B Touch Panel with any object with a sharp edge or hard end. (Description changed)
・ Do not put ATP-104 ATP-104A ATP-104A060B Touch Glass close to fire. (Description added)
・ Do not wipe ATP-104 ATP-104A ATP-104A060B Touch Membrane with too much load. (Description added)
・Do not strongly rub ATP-104 ATP-104A ATP-104A060B HMI Panel Glass locally. It may affect the ATP-104 ATP-104A ATP-104A060B's functions. (Description added)
・ Do not hit ATP-104 ATP-104A ATP-104A060B Touchscreen Panel with a hard object. (Description added)
Specifications:
The table below describes the parameters of the DMC ATP-104A060B Touch screen Panel Glass.
| | |
| --- | --- |
| Part Number : | ATP-104A ATP-104A060B |
| Manufacturer: | DMC |
| Screen diagonal | 10.4 in |
| Warranty: | 365 Days Warranty |
| Interfaces | USB / RS232 |
| | |
| --- | --- |
| Touchpoints: | 1 |
| Glass Strength: | 1.8 mm |
| Technology: | Analog resistive 4-wire |
| Active Area: | 213.0 x 160.0mm |
| Viewing Area Dimension | 221.0 x 168.0mm |
DMC AST / ATP Series Manuals PDF Download:
DMC AST / ATP Touch Screen Handling Notes
Precautions
This product is intended for use in standard applications (computers, office automation, and other office equipment, industrial, communications, and measurement equipment, personal and household devices, etc.)

Please avoid using this product for special applications where failure or abnormal operation may directly affect human lives, or cause physical injury or property damage, or where extremely high levels of reliability are required (such as aerospace systems, vehicle operating control, atomic energy controls, medical devices for life support, etc.).
Handling Notes

Do not depress or scratch the product with any object with a sharp edge or hard end.
Do not put this product close to fire.
Do not wipe this product with too much load.
Do not strongly rub this product locally. It may affect the product's functions.
Do not hit the product with a hard object.
Do not forcibly bend or fold the product.
When the product is stored, make sure it is packed in a packing box and stored in a storage temperature range, eliminating any outside load.
Do not use or store the product under a condition where the product will be exposed to water, organic solution or acid.
Do not use the product under the direct sunlight.
Do not disassemble the product.
When you handle the product, Hold the product by its body. Do not hold by the tail.
Clean the product with a soft cloth or a soft cloth with neutral detergent or alcohol. When contaminated by chemicals, wipe them off immediately with caution not to cause injury to human body.
The edge of the glass is not rounded and may cause injury.
Construction Notes

The environmental specifications, mechanical characteristics, and electrical characteristics are only applied to the Active Area.
Do not use the touchscreen when the condensation occurs. The condensation inside of the touchscreen is a natural phenomenon and should disappear after the touchscreen is warmed up.
Common misspellings: 
TP-104A060B
AP-104A060B
ATP-104A06B
ATP-104A060
Do you want to quickly know the product quotation you need?
Fast Quote
Worldwide Shipping
12 Months Warranty
Customize Service