New Zealand! You guys are amazing, I am going to put in touch a New Customer with you directly.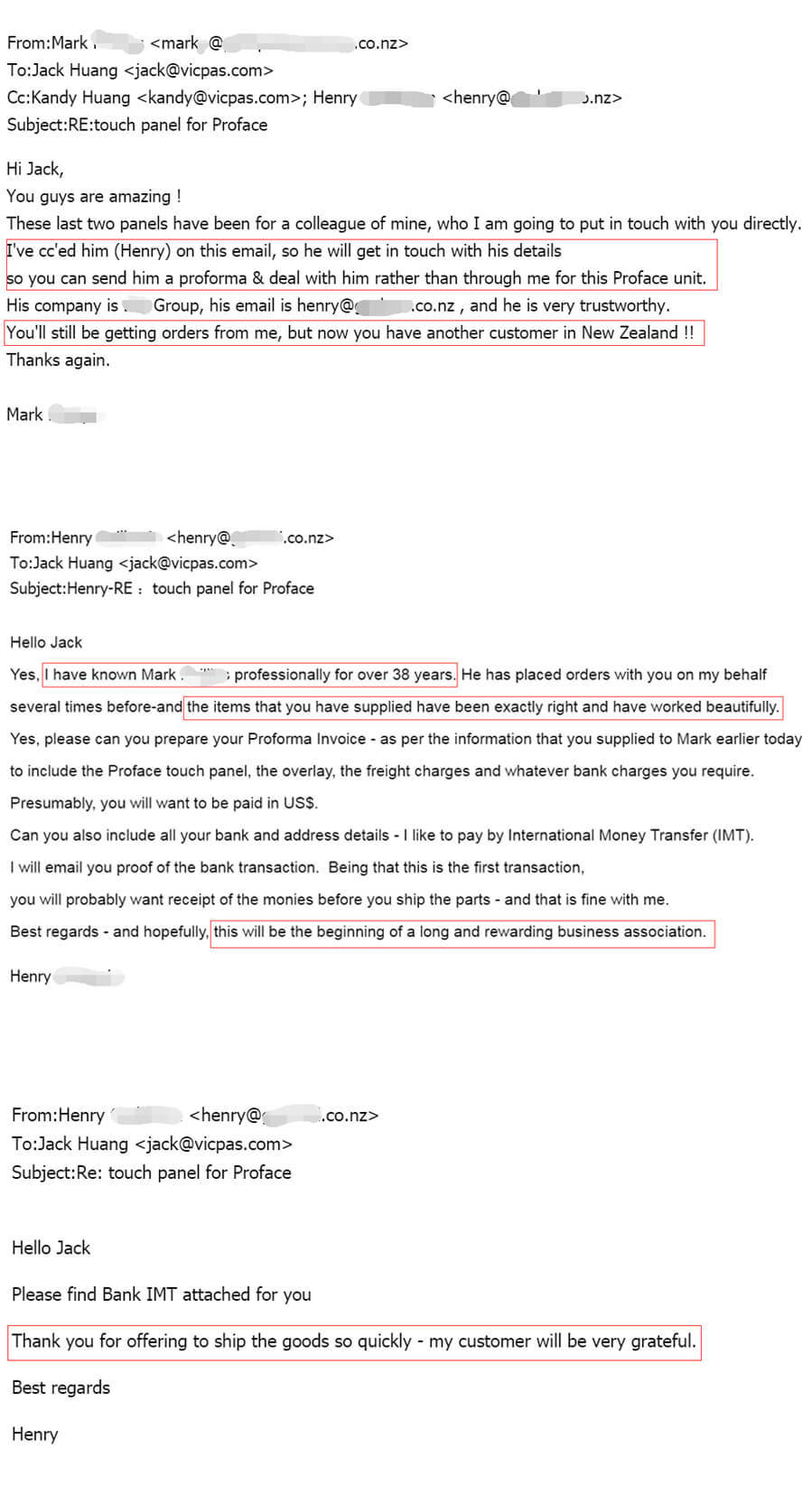 These last two panels have been for a colleague of mine, who I am going to put in touch with you directly.
I've cc'ed him (Henry) on this email, so he will get in touch with his details so you can send him a proforma & deal with him rather than through me for this Proface unit.
His company is *** Group, his email is henry@****.co.nz , and he is very trustworthy.
You'll still be getting orders from me, but now you have another customer in New Zealand !!
--------------------------------------------------------------
Yes, I have known Mark professionally for over 38 years. He has placed orders with you on my behalf several times before - and the items that you have supplied have been exactly right and have worked beautifully.
Yes, please can you prepare your Proforma Invoice - as per the information that you supplied to Mark earlier today - to include the Proface touch panel, the overlay, the freight charges and whatever bank charges you require. Presumably, you will want to be paid in US$.
Can you also include all your bank and address details - I like to pay by International Money Transfer (IMT). I will email you proof of the bank transaction. Being that this is the first transaction, you will probably want receipt of the monies before you ship the parts - and that is fine with me.
Best regards - and hopefully, this will be the beginning of a long and rewarding business association.
---------------------------------------------------------------
Hello Jack
Please find Bank IMT attached for you
Thank you for offering to ship the goods so quickly - my customer will be very grateful.
Best regards - Henry
=============================
Thanks so much to win the trust of old customers, we still remembered the first time we cooperated with Mark was on Sept.1st.2012, He was looking for a 12.1'' with 5wires touchscreen and also TP-3224S4 touchscreen, we has stock and ship out immediately, helped Mark to solve the problem in time, and we are proud to working with Mark for almost 6 years from then on.
Mark is very nice and gentlement, and very professional on Electric repair, never complaint. This time also introduce his 38 years old friend Henry to contact us directly, this is bring us a Suprise, although we never thought customers would introduce customers to us directly, we would try our best to help Henry, keep on provide high quality product, sincerely and immediately service, hope to working with Mark and Henry's companies with another 38 years.
Follow us on Social Media to get the latest update and promotion information!