Egypt! You completly change my idea about China products.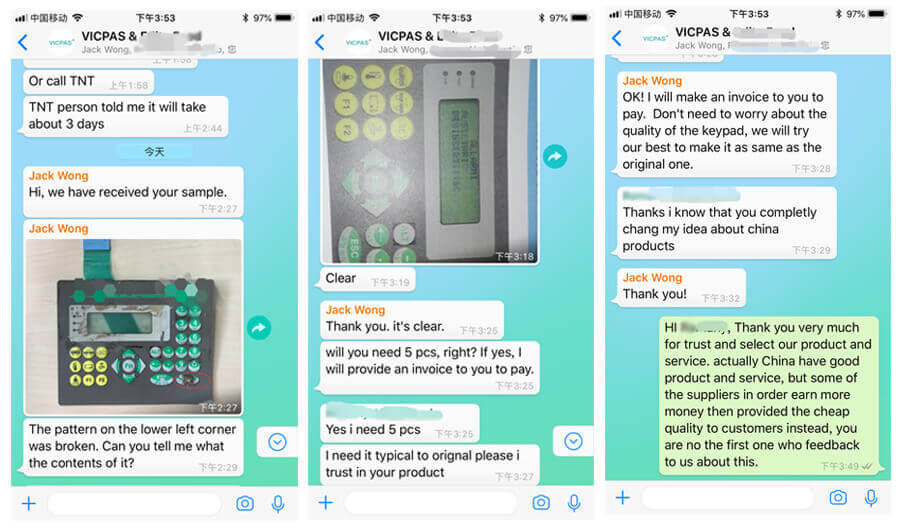 Thanks i know that you completely change my idea about China products.----Romany from Egypt.
One of our Customers from Egypt keep on sending keypads sample for Customizate who cooperation with VICPAS from Nov.2011, almost 8 years. Whenever they meet HMI touchscreen damaged, Operator keyboard faulty or LCD display broken, they would contact us for help, we provide correct and good quality accessories for repair immediately with best service either, help they solve problem in time. for us is only the regular job we did everyday, but for customers is best ever.
Everytime we got such feedback from Customers, we felt complicate, definitely we are very pleased that customers are totally trust us no only our product but also our service, and we would try our best to do a better job to reach their higher request. Meanwhile, we felt sad that why the other suppliers from China always disappointed customers again and again.
We are proud to have thousands of customers from more then 80 countries, that means thousands of trust and expectation, most of them cooperating with us at least 8-10 years, we are always afraid we are no good enough to reach customer's target, therefore we do everything for customers carefully and focus with responsibility.
Sometimes few new customers would asked why your price so high? We could only explained in patience that is no our price high, you get what you pay for, we know the quality of touchscreen, keypad and display cost. But the other competitors would gave a very low price to caught your attention first, and sent the cheap quality product instead, once dissension happened they gave many reason to avoid or even disappear. We don't want to waste customer's money and time, therefore, every accessory we sold were all tested before shipment, and provided 6-12 months warranty. make sure our product and service are worth for what your paid. Beacause our high quality product and excellent serivce, Paypal selected us as the Golden Key Suppliers, the only one suppliers from China whom supply Touchscreen glass, Membrane Keypad and LCD Display, introduce to more customers from all over the world.
We value to cooperate with every customers, in the meantime, we hope all of our customers pay more attention to the product quality and technical service, Focus on Value but not only on Price. and we hope the other China suppliers stop cheat your customers, do no losing face of Made-in-China.
---
Follow us on Social Media to get the latest update and promotion information!