6ES7633-2DF00-0AE3 SIMATIC Siemens C7 633 Membrane Keypad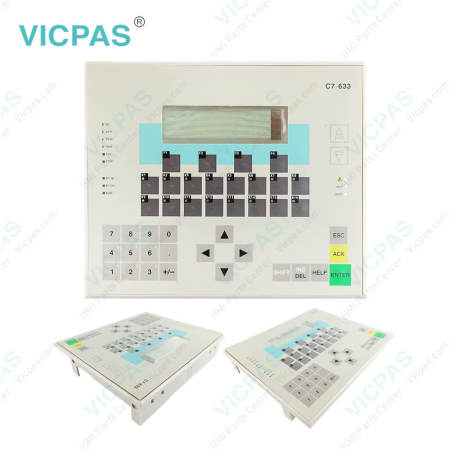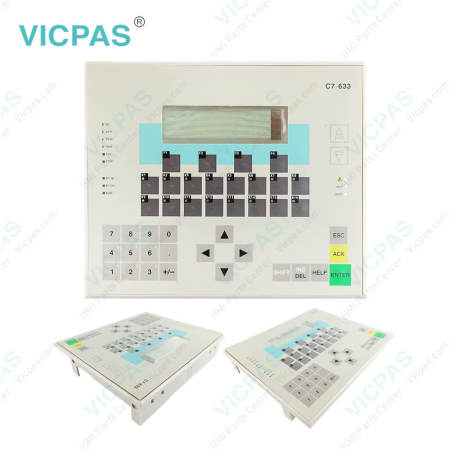 | | |
| --- | --- |
| Categories | Simatic C7 Series |
| Brand | VICPAS |
| Model | 6ES7633-2DF00-0AE3 |
| Brand | Siemens |
| Warranty | 6 Months |
| Product Line | Siemens C7 series |
| width | 229.5mm |
| height | 192.5mm |
| Supply | Siemens C7-633 membrane keyboard |
| model | 6ES7633-2DF00-0AE3 |
| FOB port | Guangzhou, Shenzhen, Hongkong |
| Terms of Payment | Western Union, MoneyGram, T/T, Paypal, PayPal, T/T ,Credit Card, Western Union |
| Download DOC | |
| Update Time | 2022/6/29 |
6ES7633-2DF00-0AE3 Siemens SIMATIC HMI C7-633 Membrane Keyboard Plastic Repair Replacement
Order each part separately is available

6ES7633-2DF00-0AE3 SIMATIC C7, STARTER KIT C7-633 ASI, WITH C7-633, STEP7-MINI, PROTOOL/LITE, DOCU AND ASI COMPONENTS GERMAN AND ENGLISH
The C7-633 and C7-633 DP control systems have a SIMATIC S7-300CPU 315 or CPU 315-2 DP as the C7 CPU and an OP 7 with extendedfunction keys as the C7 OP
The screen display comprises four lines of 20 characters with a characterheight of 8 mm.The C7-633 P is fitted with an integrated I/O module and has no DPinterface.
You can do the following with the C7-633:
• Run user programs that were written in STL, LAD or FBD anddownloaded to the C7 CPU.
• Process digital and analog signals using the I/Os integrated on the C7.
• Download and use operator interface applications that you created withthe "ProTool" or "ProTool/Lite" configuration tool.
•Using these configurations, you can monitor and intervene in the processyou are controlling with the user program.
•Connect further S7-300 modules.

VICPAS supply 6ES7633-2DF00-0AE3 Siemens C7 633 membrane switch with 6 months warranty and support Urgent Worldwide Shipping.

Specifications:
The table below describes the parameters of the 6ES7633-2DF00-0AE3 Siemens c7-633 HMI Parts.
| | |
| --- | --- |
| Part Number : | 6ES7633-2DF00-0AE3 |
| Firmware version: | V2.0.12 |
| OP: | OP7 |
| Warranty: | 6-Months Warranty |
| Product Line: | Siemens c7-633 |
| | |
| --- | --- |
| Rated value (DC): | 24 V |
| Communications interface: | MPI |
| Design as touch screen: | No |
| Keyboard fonts: | US English |
| Number of analog outputs | 2 |
Related Siemens Simatic C7-633 Part No. :
Siemens C7 633 series HMI Manuals PDF Download:
FAQ:
Question: What is the size of 6ES7633-2DF00-0AE3 Siemens c7 633 membrane switch??
Answer:It is 229.5 millimeters long and 192.5 millimeters wide.
Question: How to change labeling strips of Siemens C7 633?
Answer:The C7 is designed for user-friendly insertion of the labeling strips. Thelabeling strips should only be changed when the C7 is not installed. Proceedas follows to change the strips:
1. Pull the labeling strips you want to replace out of the device.
2. From the rear of the device, push the new strips into the relevant slots onthe side.

Question: What is the 6ES7633-2DF00-0AE3 Siemens C7-633 membrane switch price?
Answer: Submit a fast quote, send VICPAS an email for best price.
Common misspellings: 
6S7633-2DF00-0AE3
6E7633-2DF00-0AE3
6ES633-2DF00-0AE3
6ES733-2DF00-0AE3
6ES763-2DF00-0AE3
6ES763-2DF00-0AE3
6ES76332DF00-0AE3
Do you want to quickly know the product quotation you need?
Fast Quote
Worldwide Shipping
12 Months Warranty
Customize Service