Beijer EXTER K20m 601110202 Monochrome Membrane Keypad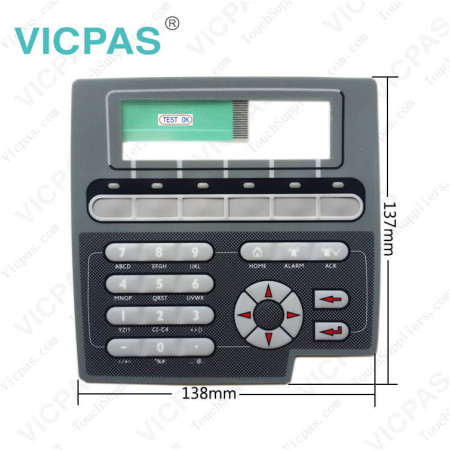 Beijer EXTER K20 m 601110202 Beijer EXTER Series Membrane Keyboard Repair Replacement

EXTER K20 m monochrome keypad HMI membrane switch replacement
The EXTER K20 m 603111202 features:
•240 x 64 pixels
•FSTN display
•240 x 64 pixels
•Project storage 512KB
•Operating temperature 0 to +50 °C
•Serial, Enet w/Exp module
•6 keys / 6 LEDs

The EXTER panels comply with the toughest industry standards such as CE, UL and DNV. The robust and reliable panels have shallow mounting-depths to enable full control with space saving efficiency. The panels are 100% dimmable and easy to clean, with a high-pressure water-resistant IP66 front, making them perfect for installation everywhere from onboard ships and oil rigs to sterile rooms and chemically challeng- ing environments.
VICPAS supply Beijer Exter EXTER K20 m membrane switch with 6 months warranty and support Urgent Worldwide Shipping.

Specifications:
The table below describes the parameters of the 603111202 Beijer EXTER K20 m HMI Parts.
| | |
| --- | --- |
| Brand: | Beijer |
| Numerical keypad: | YES |
| Input fuse: | Internal DC fuse |
| Warranty: | 6-Months Warranty |
| Product Line: | Beijer EXTER K20 m |
| | |
| --- | --- |
| Size diagonal: | 240 x 64 pixels |
| Part Number: | 601110202 |
| Housing material: | Powder-coated aluminium, grey |
| Input voltage: | 20 - 30 V DC |
| Display type: | Monochrome FSTN |
Beijer EXTER K20 m Operator Panel HMI Manuals PDF Download:
FAQ:
Question: How to ground the Beijer EXTER K20 m Operator Panel?
Answer:1. The operator panel's mounting clamps do not provide a secure grounding connectionbetween the panel and the device cabinet.
2. Connect a 2.5 mm2 wire between the operator panel's quick-connect plinth andthe panel chassis.
3. Connect a 6 or 4 mm2 wire or grounding braid between the panel's chassis andthe closest grounding point on the door.
4. Connect a strong but short grounding braid between the door and the devicecabinet.
5. Twist the cables onto the 24 V DC feed.
6. A ferrite core suppresses disturbances to the 24 V feed.

Question: Why are Beijer 603111202 membrnae keypad with the chemical resisitace?
Answer:Beacuse Autotex F157 covers the membrane keyboard.

Question: What is EXTER K20 m 603111202 Beijer E1000 Series Operator Panel mebrane keyboard HMI parts price?
Answer: Submit a fast quote, send VICPAS an email for best price.
Common misspellings: 
03111202
63111202
60111202
60311202
60311202
Do you want to quickly know the product quotation you need?
Fast Quote
Worldwide Shipping
12 Months Warranty
Customize Service