6AV6545-4BA16-0CX0 Siemens Touchscreen Membrane Keyboard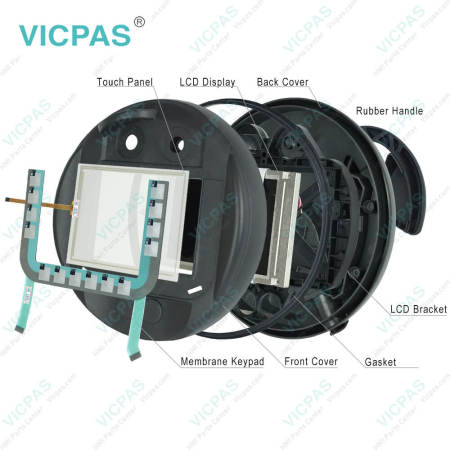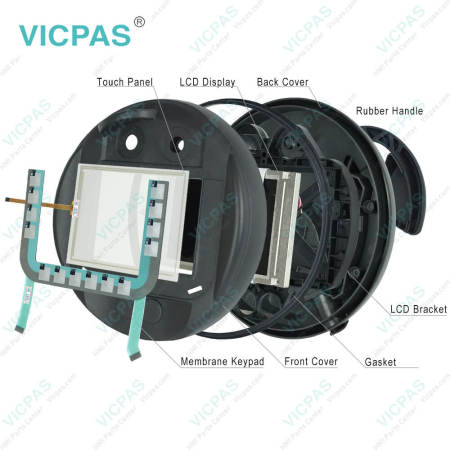 | | |
| --- | --- |
| Categories | Simatic Mobile Panels |
| Brand | VICPAS |
| Model | 6AV6545-4BA16-0CX0 |
| Warranty | 365 Days |
| Brand | Siemens |
| Product Line | Mobile Panel |
| Supply | Siemens Mobile Panel Touchscreen Membrane Keypad |
| Size | 5.7 inch |
| model | 6AV6545-4BA16-0CX0 |
| Supply | HMI Case Cover and LCD Display Panel |
| Terms of Payment | Western Union, T/T, PayPal, Credit Card |
| Update Time | June 4,2023 |
6AV6545-4BA16-0CX0 Touch Panel Membrane Keypad LCD Display Housing Repair Replacement
Order each part separately is available
6AV6545-4BA16-0CX0 Bracket, HMI Case Cover, Gasket and Screws:

6AV6545-4BA16-0CX0 SIMATIC MOBILE PANEL 170 WITHINTEGRATED ENABLING BUTTON CONFIGURABLE W.PROTOOL/LITE VERSION V6.0+SP2 AND HIGHER
The second generation of SIMATIC HMI Mobile Panels impresses with its convenience, performance and quality.The highlights: A brilliant widescreen display, particularly simple configuration and the unique illuminated emergency stop button.This series of devices offers panels with 7", 9" and 10" displays, some of which are available with or without safety-related operator controls.The Mobile Panels of the 2nd Generation are the successors to the SIMATIC HMI Mobile Panels x77 with cable connections.
6AV6545-4BA16-0CX0 LCD Display, Touch Screen Panel and Membrane Keyboard:
The Mobile Panels of the 2nd generation have the same aspect ratio and resolution as the Comfort Panels. With the WinCC engineering software of the TIA Portal, operating screens are easily configured both for stationary as well as mobile applications – or adopted with the push of a button. For TIA Portal configuration, users simply need to select the new Mobile Panel. The configuration can then be expanded with specific functions for mobile utilization. The new style editor offers an additional advantage, allowing you to simply integrate your corporate design with the control unit for central management
VICPAS supply 6AV6545-4BA16-0CX0 Siemens Mobile Panel 170 Plastic Shell, Membrane Switch, touch panel and LCD display. All of them with VICPAS 365 days warranty and support Urgent Worldwide Shipping.
Specifications:
The table below describes the parameters of the 6AV6545-4BA16-0CX0 Siemens Mobile Panel 170 HMI Parts.
| | |
| --- | --- |
| Part Number : | 6AV6545-4BA16-0CX0 |
| Touchscreen: | STN |
| Screen diagonal: | 5.7 in |
| Warranty: | 365 days Warranty |
| Product Line: | Siemens Mobile Panel 170 |
| | |
| --- | --- |
| Number of colors: | 16 |
| Mounting position: | vertical |
| Key Features: | Touch screen support |
| Language: | Worldwide |
| Control elements: | Keys and touch |
Related Simatic Mobile Panel 170 Part No. :
Siemens Mobile Panel 170 HMI Manuals PDF Download:
FAQ:
Question: Which software for Siemens Mobile Panel 170 programming software?
Answer:WinCC.WinCC (TIA Portal) is an engineering software for configuring SIMATIC Panels, SIMATIC Industrial PCs, and Standard PCs with the WinCC Runtime Advanced or the SCADA System.WinCC Runtime Professional visualization software.WinCC (TIA Portal) is available in four editions, depending on the configurable operator control.

Question: What is the size of Siemens Mobile Panel 170 touch panel??
Answer:The Siemens Mobile Panel 170 TouchScreen is 5.7-inch.It is 136 millimeter long and 108 millimeters wide.
Question: What is the 6AV6545-4BA16-0CX0 Siemens Mobile Panel 170 HMI parts price?
Answer: Submit a fast quote, send VICPAS an email for best price.
Common misspellings: 
6V6545-4BA16-0CX0
6A6545-4BA16-0CX0
6AV545-4BA16-0CX0
6AV645-4BA16-0CX0
6AV655-4BA16-0CX0
Do you want to quickly know the product quotation you need?
Fast Quote
Worldwide Shipping
12 Months Warranty
Customize Service