2711-K14C1 PanelView 1400 Membrane Keyboard Keypad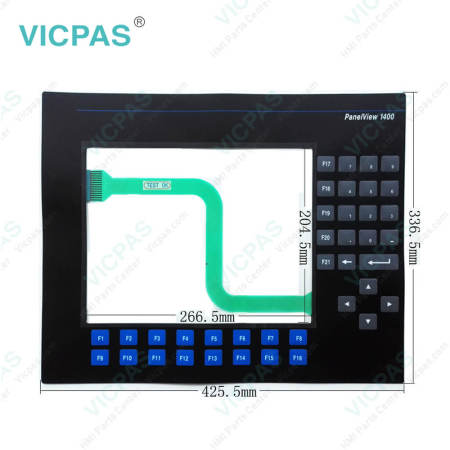 | | |
| --- | --- |
| Categories | PanelView 1400 |
| Brand | VICPAS |
| Model | 2711-K14C1 |
| Brand | Allen Bradley |
| Warranty | 365 Days |
| Product Line | PanelView 1400 |
| Size | 14 Inch |
| Supply | PanelView 1400 Membrane Keypad Swtich |
| Parts | 2711-K14C1 Membrane Keypad Switch |
| FOB port | Guangzhou, Shenzhen, Hongkong |
| Terms of Payment | Western Union, MoneyGram, T/T, Paypal, PayPal, Credit Card |
| Download DOC | |
| Update Time | June 4,2023 |
2711-K14C1 PanelView 1400 Membrane Keyboard Keypad Switch Repair Replacement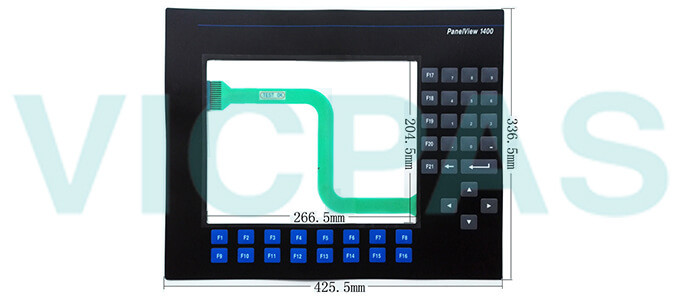 The Allen-Bradley 2711-K14C1 is a PanelView standard 1400 terminal that has IP54/IP65 protection. Instead of a full touchscreen, this terminal makes use of a keypad and it has a color CRT screen. The screen measures 14 inches and has an 800 x 600-pixel resolution. It also has 384 touch cells that are arranged in 24 columns by 16 rows, with a touch cell size of 33 x 37 pixels. The 2711-K14C1 keypad has function keys that can host custom labels. To give them custom labels, refer to the function key legend kit that comes with the terminal.
VICPAS supply Panelview Standard 1400 2711-K14C1 membrane keypad switch for repair replacement, make the HMI running. We provide a 1-year warranty of the most product, which include most of touch screen panel, membrane keypad, LCD display and protective case shell housing.
This 2711-K14C1 terminal has an operating vibration of 1g at up to 2000 Hertz, a non-operating shock of 30g and an operating shock of 15g. Its storage temperature is -40 to 85 degrees Celsius and the operating temperature is 0 to 55 degrees Celsius. The relative humidity is 5 to 95% non-condensing at 0 to 55 degrees Celsius. The 2711-K14C1 also has a heat dissipation of 78 W or 264 BTU/hour. The dimensions of the 2711-K14C1 terminal are 13.97 x 19 x 15.53 inches and it has a weight of 44.75 lbs. It comes with 1008 KB of total application flash memory and two communication ports, which are an RS-232 printer port and a DH+ port. It also has status indicators that show its current condition and uses a NEMA Type 12/13 or 4x enclosure that is only rated for indoor use.
Specifications:
The table below describes the parameters of the 2711-K14C1 PanelView 1400 membrane keyboard keypad switch.
| | |
| --- | --- |
| Part Number : | 2711-K14C1 |
| Product Line: | PanelView 1000 |
| Screen diagonal | 14 in |
| Warranty: | 365 Days Warranty |
| Input Power | 24 VDC |
| | |
| --- | --- |
| Software: | Panelbuilder 32 |
| Operating Temperature: | 32-131 F (0-55 C) |
| Input Type: | Keypad |
| Communication: | Remote I/O and RS-232 Printer Port |
| Display Dimensions | 10.0 x 7.5 in (255 x 191 mm) |
Related PanelView 1400 Series Part No. :
Siemens KP300 Series
Description
Inventory status
6AV6647-0AH11-3AX0
SIMATIC HMI KP300 BASIC MONO PN
In Stock
SIMATIC HMI KP300 Series
Description
Inventory status
FAQ:
Question:What are the status indicators for 2711-K14C1?
Answer:2711-K14C1 has two indicators: a green COMM indicator and a red fault indicator.
Question: What is the voltage rating of the 2711-K14C1 Allen Bradley ?
Answer:The 2711-K14C1 has a voltage rating of 85 to 264 Volts AC.

Question:Does the 2711-K14C1 Panelview 1400 have a replacement backlight?
Answer:Yes, the 2711-K14C1 has a replacement backlight, although different series have different replacement parts. 2711-K14C1 has the following replacement part number: 2711-NL4, Series B: 2711-NL6, Series C: 2711-NL7, Series D, and Series E: 2711NL9, and for Series F: 2711-NL10.
Question:How many touch cells does 2711-K14C1 have?
Answer:2711-K14C1 has 384 touch cells in 24 columns by 16 rows. The touch cell size is 33 x 37 pixels.
Question: What is the 2711-K14C1 PanelView 1400 touch screen panel price?
Answer: Submit a fast quote, send VICPAS an email for best price.
Common misspellings: 
2711K14C1
27l1-K14C1
271l-K14C1
2711-Kl4C1
2711-K1AC1
2711-K14Cl
Do you want to quickly know the product quotation you need?
Fast Quote
Worldwide Shipping
12 Months Warranty
Customize Service