2711-K10C10L1 PanelView 1000 Membrane Keypad Switch Repair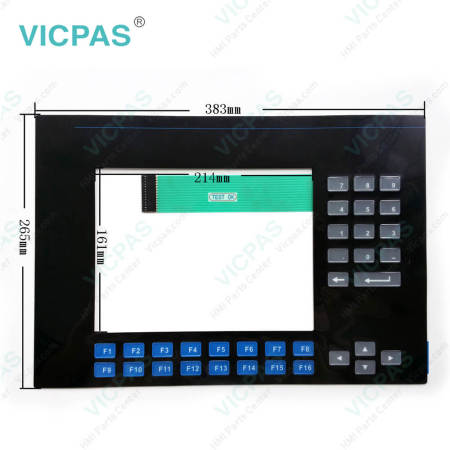 | | |
| --- | --- |
| Categories | PanelView 1000 |
| Album | View larger image |
| Brand | VICPAS |
| Model | 2711-K10C10L1 |
| Brand | Allen Bradley |
| Warranty | 365 Days |
| Product Line | PanelView 1000 |
| Size | 10.1 Inch |
| Supply | PanelView 1000 Membrane Keypad Swtich |
| Parts | 2711-K10C10L1 Membrane Keypad Swtich |
| FOB port | Guangzhou, Shenzhen, Hongkong |
| Terms of Payment | Western Union, MoneyGram, T/T, Paypal, PayPal, Credit Card |
| Download DOC | |
| Update Time | 2019-11-17 |
2711-K10C10L1 PanelView 1000 Membrane Keyboard Keypad Switch Repair Replacement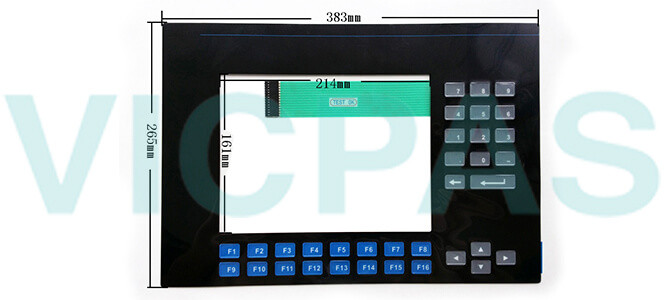 The 2711-K10C10L1 module is a part of the Allen-Bradley Panelview 1000 Series that offers a stainless-steel domed membrane keypad as its input type with an actuation of one million presses. Moreover, the 2711-K10C10L1 has a display size of 10.1 inches and a field replaceable backlight and battery. In addition, it consumes 24 W maximum power and weighs approximately 3.7 kg or 8.2 lb. Thus, it measures 11.11 in x 16.64 in x 4.4 in dimensions and a 17 W (577 BTU/hr) heat dissipation.
The 2711-K10C10L1 has a non-volatile memory and RAM of 240 KB which stores data, files, and applications is also possible. The 2711-K10C10L1 has a smooth navigation with the 2711-ND3 PanelBuilder 32 software that runs on a personal computer and operates in Basic English, increasing the operator's productivity. This 32-bit software enables direct uploading or downloading of applications from or to a computer, over the network, or by using a memory card. In line with this, it can operate on the Microsoft Windows 2000, ME, XP, or the Vista operating system.
VICPAS supply Allen Bradley Panelview Standard 1000 2711-K10C10L1 membrane keypad switch for repair replacement, make the HMI running. We provide a 1-year warranty of the most product, which include most of touch screen panel, membrane keypad, LCD display and protective case shell housing.
The 2711-K10C10L1 by Allen-Bradley is part of the Panelview 1000 series and is engineered for users to effectively interface with their machinery. Operators can easily input information and commands with the Keypad. There is a sharp 10.1 in. Multi-Color display. Each module features a durable NEMA Type 12/13 or 4X enclosure and runs on 24 Volts Direct Current input power. Data, files, applications, and more can be stored in the 256 Kilobytes memory and easily navigated through using the 2711-ND3 PanelBuilder 32 software. There are Printer (RS-232) Port and DeviceNet ports for adaptable communication.
Specifications:
The table below describes the parameters of the 2711-K10C10L1 PanelView 1000 membrane keyboard keypad switch.
| | |
| --- | --- |
| Part Number : | 2711-K10C10L1 |
| Product Line: | PanelView 1000 |
| Screen diagonal | 10.1 in |
| Warranty: | 365 Days Warranty |
| Input Power | 24 VDC |
| | |
| --- | --- |
| Software: | Panelbuilder 32 |
| Mounting position: | vertical |
| Input Type: | Keypad |
| Communication: | Remote I/O and RS-232 Printer Port |
| Firmware | 4.00-4.48 |
Related PanelView 1000 Series Part No. :
Siemens KP300 Series
Description
Inventory status
6AV6647-0AH11-3AX0
SIMATIC HMI KP300 BASIC MONO PN
In Stock
SIMATIC HMI KP300 Series
Description
Inventory status
FAQ:
Question:Can I add an anti-glare overlay to my 2711-K10C10L1 Panelview 1000 membrane keypad?
Answer:Yes, anti-glare overlays are available for the 2711-K10C10L1. The part number is 2711-NV6T.
Question: What is the voltage rating of the 2711-K10C10L1 Allen Bradley ?
Answer:The 2711-K10C10L1 has a voltage rating of 85 to 264 Volts AC.

Question:What type of display does the Allen Bradley Panelview 1000 2711-K10C10L1 have?
Answer:The 2711-K10C10L1 has a multicolor LCD as its display type.
Question: What is the 2711-K10C10L1 PanelView 1000 touch screen panel price?
Answer: Submit a fast quote, send VICPAS an email for best price.
Common misspellings: 
27l1-K10C10L1
271l-K10C10L1
2711-Kl0C10L1
2711-K1oC10L1
2711-K10Cl0L1
2711-K10C1oL1
2711-K10C1011
2711-K10C10Ll
Do you want to quickly know the product quotation you need?
Fast Quote
Worldwide Shipping
12 Months Warranty
Customize Service