6ES7626-1DG02-0AE3 Siemens SIMATIC C7-626 Membrane Keyboard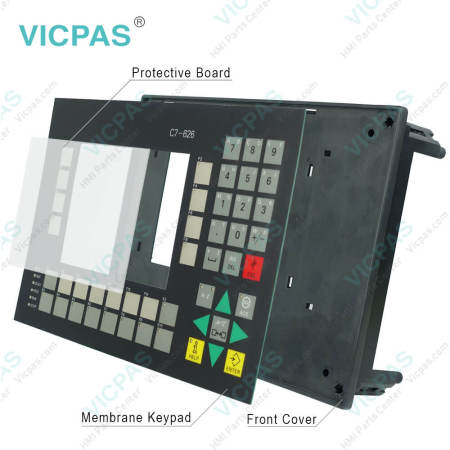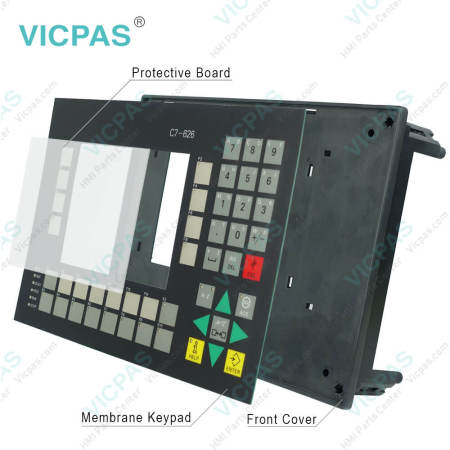 | | |
| --- | --- |
| Categories | Simatic C7 Series |
| Brand | VICPAS |
| Model | 6ES7626-1DG02-0AE3 |
| Brand | Siemens |
| Warranty | 6 Months |
| Product Line | Siemens C7 series |
| Supply | Siemens C7-626 membrane keyboard |
| width | 234mm |
| height | 161mm |
| model | 6ES7626-1DG02-0AE3 |
| FOB port | Guangzhou, Shenzhen, Hongkong |
| Terms of Payment | Western Union, MoneyGram, T/T, Paypal, PayPal, T/T ,Credit Card, Western Union |
| Download DOC | |
| Update Time | 2022/7/7 |
6ES7626-1DG02-0AE3 Siemens SIMATIC HMI C7-626 Membrane Keyboard Plastic Repair Replacement
Order each part separately is available

6ES7626-1DG02-0AE3 SIMATIC C7-626/P, COMPACT UNIT WITH INTEGRATED COMPONENTS: S7-300 CPU 315 (96KB MEMORY), SIMATIC OP25 AND IM 360, 16 DI, 16 DO, 4 AI, 4AO, 4UI
The C7 systems are available in two variants:
With a graphics display, digital and analog inputs and outputs, multipointinterface and IM360 interface moduleThe C7-626 DP is identical to the C7-626, but has the additional feature of aPROFIBUS-DP interface module
You can do the following with the C7-626:
• Run user programs that were written in STL, LAD or FBD anddownloaded to the C7 CPU.
• Process digital and analog signals using the I/Os integrated on the C7.
• Download and use operator interface applications that you created withthe "ProTool" or "ProTool/Lite" configuration tool.
•Using these configurations, you can monitor and intervene in the processyou are controlling with the user program.
•Connect further S7-300 modules.

VICPAS supply 6ES7626-1DG02-0AE3 Siemens C7 626 membrane switch with 6 months warranty and support Urgent Worldwide Shipping.

Specifications:
The table below describes the parameters of the 6ES7626-1DG02-0AE3 Siemens c7-626 HMI Parts.
| | |
| --- | --- |
| Part Number : | 6ES7626-1DG02-0AE3 |
| Firmware version: | V2.0.12 |
| Programming: | STEP 7 V5.2 + SP1 |
| Warranty: | 6-Months Warranty |
| Product Line: | Siemens c7-626 |
| | |
| --- | --- |
| Rated value (DC): | 24 V |
| Number of digital outputs: | 16 |
| Design as touch screen: | No |
| Keyboard fonts: | US English |
| Number of analog outputs | 2 |
Related Siemens Simatic C7-626 Part No. :
Siemens C7 626 series HMI Manuals PDF Download:
FAQ:
Question: How to install C7-626?
Answer:The C7 has been prepared for fixed installation in a control panel or cabinetdoor Proceed as follows:
1.Make a standard cutout in the control panel in accordance with DIN 43700(dimensions 23.5 x 158.5 mm).
2.Insert the enclosed sealing ring behind the front pane.
3.Insert the C7 in the cutout in the control panel.
4.Insert the four fixing brackets into the guides provided.Push the fixing brackets in until the spring engages.
5.Screw the four fixing screws enclosed with the C7 into the four fixing brackets enclosed(approximately two to three turns).6.Tighten the four screws with a screwdriver.

Question: What is the dimension of 6ES7626-1DG02-0AE3 Siemens c7 626 membrane switch??
Answer:It is 234 millimeter long and 161 millimeters wide.
Question: What is the 6ES7626-1DG02-0AE3 Siemens C7-626 membrane switch price?
Answer: Submit a fast quote, send VICPAS an email for best price.
Common misspellings: 
6S7626-1DG02-0AE3
6E7626-1DG02-0AE3
6ES626-1DG02-0AE3
6ES726-1DG02-0AE3
6ES766-1DG02-0AE3
Do you want to quickly know the product quotation you need?
Fast Quote
Worldwide Shipping
12 Months Warranty
Customize Service