6ES7634-1DF02-0AE3 SIMATIC Siemens C7 634 Membrane Switch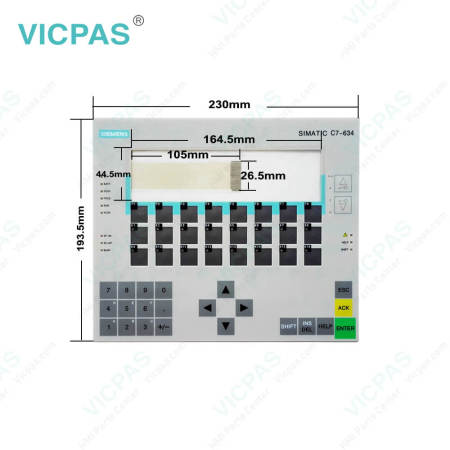 | | |
| --- | --- |
| Categories | Siemens Membrane Keyboard Repair |
| Album | View larger image |
| Brand | VICPAS |
| Model | 6ES7634-1DF02-0AE3 |
| Brand | Siemens |
| Warranty | 6 Months |
| Product Line | Siemens C7 series |
| width | 230mm |
| height | 193.5mm |
| Supply | Siemens C7-634 membrane keyboard |
| model | 6ES7634-1DF02-0AE3 |
| FOB port | Guangzhou, Shenzhen, Hongkong |
| Terms of Payment | Western Union, MoneyGram, T/T, Paypal, PayPal, T/T ,Credit Card, Western Union |
| Update Time | 2019-10-21 |
6ES7634-1DF02-0AE3 Siemens SIMATIC HMI C7-634 Membrane Keyboard Plastic Repair Replacement

6ES7634-1DF02-0AE3 SIMATIC C7-634/P, COMPACT UNIT WITH INTEGRATED COMPONENTS: S7-300 CPU 315, OP17, IM 360 16DI, 16DO, 4AI, 4AO, 4 UI
The C7 devices are available in the following variants:
• C7-634 P, C7-634-DP
The C7-634 P and C7-634 DP control systems have a SIMATIC S7-300CPU 315 or CPU 315-2 DP as the C7 CPU and an OP 17 as the C7 OP.
The SIMATIC 6ES7634-1DF02-0AE3 screen display can be configured as follows:
• Four lines of 20 characters with 11 mm character height or
• Eight lines of 40 characters with 6 mm character height.
The C7-633 DP and C7-634 DP control systems can be connected via theintegrated DP interface to a PROFIBUS DP network.
VICPAS supply 6ES7634-1DF02-0AE3 Siemens C7 634 membrane switch with 6 months warranty and support Urgent Worldwide Shipping.

Specifications:
The table below describes the parameters of the 6ES7634-1DF02-0AE3 Siemens c7-634 HMI Parts.
| | |
| --- | --- |
| Part Number : | 6ES7634-1DF02-0AE3 |
| Firmware version: | V2.0.12 |
| OP: | OP17 |
| Warranty: | 6-Months Warranty |
| Product Line: | Siemens c7-634 |
| | |
| --- | --- |
| Rated value (DC): | 24 V |
| Communications interface: | MPI PROFIBUS-DP master or slave |
| Design as touch screen: | No |
| Keyboard fonts: | US English |
| Number of analog outputs | 2 |
Related Siemens Simatic C7-634 Part No. :
Siemens C7 634 series HMI Manuals PDF Download:
FAQ:
Question: What is the size of 6ES7634-1DF02-0AE3 Siemens c7 634 membrane switch??
Answer:It is 230 millimeters long and 193 millimeters wide.
Question: How to repalce the Siemens C7 634?
Answer:On-site repair of the C7 has not been provided for. For this reason, adefective C7 must be replaced
1. Connect a programming device/PC to the multipoint interface.
2. Use STEP 7 to save the user program on the C7 CPU to a programmingdevice/PC or remove the memory card on which the CPU user program isstored.
If the C7 CPU is defective and the user program can no longer be readout, remove the C7 without any further safety measures.

Question: What is the 6ES7634-1DF02-0AE3 Siemens C7-634 membrane switch price?
Answer: Submit a fast quote, send VICPAS an email for best price.
Common misspellings: 
6S7634-1DF02-0AE3
6E7634-1DF02-0AE3
6ES634-1DF02-0AE3
6ES734-1DF02-0AE3
6ES764-1DF02-0AE3
Do you want to quickly know the product quotation you need?
Fast Quote
Worldwide Shipping
12 Months Warranty
Customize Service