ABB 3HNP01710-1 S4 S4C Teach Pendant Parts Repair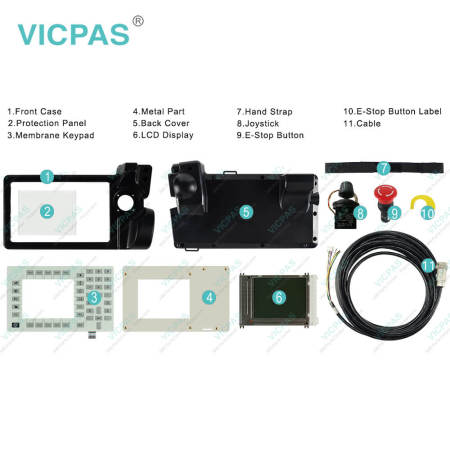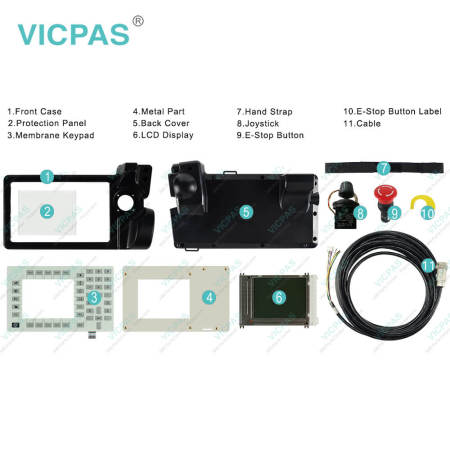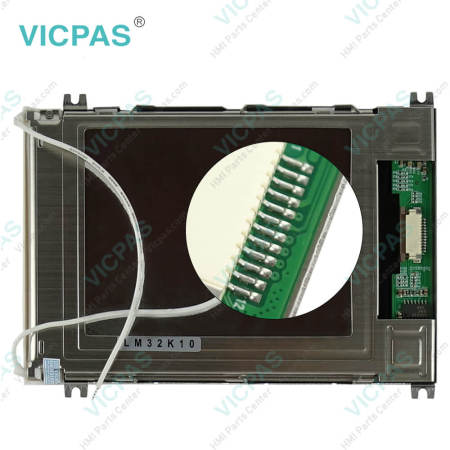 ABB 3HNP01710-1 ABB 3HNP 01710-1 S4 S4C Teach Pendant Membrane Keypad LCD Display HMI Case Repair
Order each part separately is available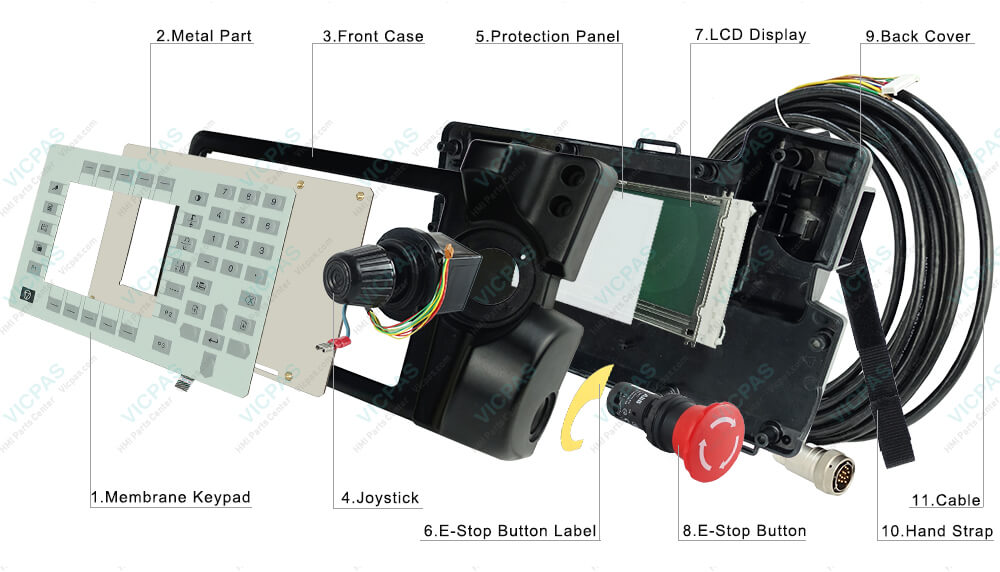 VICPAS supply ABB 3HNP01710-1 ABB 3HNP 01710-1 teach pendant parts, E-stop button, joystick, E-stop button label, metal part, cable, LCD display repair, protection panel, hand strap, terminal keypad and protective case shell housing. All of them with VICPAS 365 days warranty and support Urgent Worldwide Shipping.

The 3HNP01710-1 ABB 3HNP 01710-1 pendant (Paint Teach Pendant Unit, PTPU) is a device to perform robot-near tasks, like jogging. The pendant may be placed in the pendant suspension on the control cabinet front. The SC4 SC4+ teach pendant includes a display and control keys for operating the robot. In addition, the pendant includes cable, LCD screen, E-stop button, joystick, metal part, protection panel, hand strap, membrane switch, front case, back cover, E-stop button label and on the rear an Enabling Device. For detailed description of the operation of the pendant, see 'Operator's Manual, IRC5P'.
Product Video:
The video below describes the product details of the ABB 3HNP01710-1 ABB 3HNP 01710-1 SC4 Teach Pendant parts, include membrane keypad, Metal Part, Emergency Stop Switch, Plastic Case, Protection Panel, Cable, Joystick, Hand Strap, E-Stop Button Label with lcd display.
Specifications:
The table below describes the parameters of the ABB 3HNP01710-1 teach pendant.
| | |
| --- | --- |
| Part Number: | 3HNP01710-1/3HNP 01710-1 |
| Product Line: | ABB S4 S4C |
| Display: | TFT-LCD dynamic color screen |
| Warranty: | 180 days Warranty |
| Touchscreen: | Colour LCD display |
| | |
| --- | --- |
| Green key group: | Buttons for menu navigation. |
| Language: | Worldwide |
| Key Features: | Touch screen support |
| Cable: | 10m standard |
| Input Type: | ≥100.000 times  |
Related ABB Teach Pendant Part No. :
ABB Teach Pendant Manuals PDF Download:
FAQ:
Question: How to handle and clean the FlexPendant?
Answer:
• Handle with care. Do not drop, throw, or give the FlexPendant strong shock. It may cause breakage or failure.
• When not using the device, hang it on the wall bracket provided for storage so that it cannot fall to the ground by accident, or that nobody can trip over the cable.
• Never use sharp objects (e.g. screwdriver or pen) for operating the touch screen. This could damage the touch screen. Instead try a stylus, normally used for a PDA.
• Never clean the device with solvents, scouring agent, or scrubbing sponges. For cleaning the device, use a soft cloth and a bit of water or mild cleaning agent. See Product manual - IRC5, section Cleaning the FlexPendant.
Question: When do I need to setup the network connection?
Answer: You need to setup the controller's network connection when the controller is connected to a network for the first time or when the network addressing scheme changes.
Common misspellings: 
HNP01710-1
3HNP0110-1
3NHP01710-1
3HNP01701-1
3HHNP01710-1

Do you want to quickly know the product quotation you need?
Fast Quote
Worldwide Shipping
12 Months Warranty
Customize Service