John Deere 1800 VS 2600 Monitor VS 2630 VS 4640 Display
John Deere 1800 Display VS 2600 Monitor VS 2630 Display VS 4640 Display

John Deere has a different GreenSta Display in different agricultural machinery, includes the earliest John Deere GS2 1800 Display, Greenstar GS2 2100 display, John Deere GreenStar 3 2630 monitor. At present, John deere mainly promotes the fourth generation monitor, include John Deere 4200 CommandCenter Display, GreenStar 4240 Gen 4 Universal Display, John Deere 4640 Gen 4 Universal Display. The Gen 4 monitor offers the latest John Deere display technology offered in a moveable.
VICPAS provide all kind of touch screen panel and LCD display for John Deere Monitor repair replacement. All of them are brand new and support VICPAS 365 day warranty.
Urgent Worldwide Shipping.
Click for More
John Deere Monitor Repair Parts Details
John Deere GS3 2630 Display VS JD 4640 Gen 4 Display
The 4640 display incorporates the easy-to-use layout of the 4600 Command Center and the portability of the GreenStar 2630. With the release of the new 4640 display, John Deere has moved to a subscription based activation system which is different from the previous approach of a one-time activation purchase. Now activations for the 4640 are offered in four different configurations shown below:
1-year Autotrac Subscription $850

5-year Autotrac Subscription $4000

1-year Premium Subscription $1700 (Autotrac, Swath Control, Documentation)

5-year Premium Subscription $8000 (Autotrac, Swath Control, Documentation)


The 5-year subscription option is only available at the point of purchase of the new 4640 display. If you choose to go with a one-year subscription, you will not have the option to purchase the five-year subscription down the road.
This price comparison graphic illustrates a customer's cost of entry for a 4640 Universal Display and a 1-year subscription compared to a similarly activated GS3 2630 display.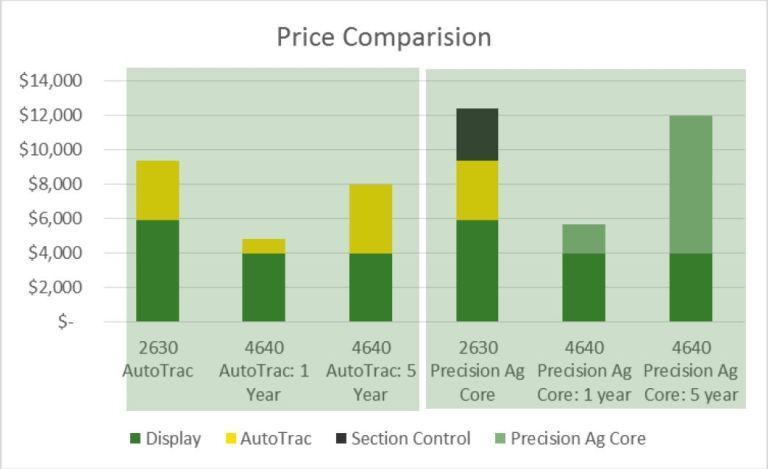 The entry price for the 4640 is approximately 1/2 of the GS3 2630. Over the course of 5 years, a customer who purchased a 4640 display and a 5-year subscription will spend less money than the customer who purchased a GS3 2630 with activations. Also, in 5 years, there's certain to be updated technology that will be better suited for the 4640 than the legacy 2630 display.
Why the change to subscription-based activations? Subscription-based precision ag offerings provide the following benefits:
1. Lower cost of entry to get started with display and subscriptions
2. Ability to try new applications for a year without having to commit to a permanent software license
3. Ability to match the cost of use with the revenue generated in the same fiscal year
4. Flexibility in selecting the level and duration of subscription that best fits the needs of the business without the expense of a one-time software license purchase
As previously mentioned, the 4640 display is portable, much like the GreenStar 3 2630 display. One of the things that the 4640 display is capable of over the 2630 display is that the 4640 can be used in conjunction with a Gen 4 extend monitor. This allows you to run the 4640 display with double the screen space.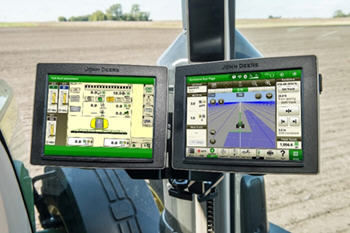 The 4640 display also has enhanced data capturing abilities making section control and coverage maps more accurate. Setting on/off times is made much easier with the 4640 display. Simply select skip or overlap and enter the distance and speed. The new operating system on the 4640 functions like a smart phone with swipe and touch integration.
At this time the 4640 display has a few limitations, but John Deere will correct these with upcoming software updates that wwill make the 4640 display even more versatile. Some of the current limitations of the 4640 display are: RowSense in combines, Vision and RowSense in sprayers, Coverage map and A/B line sharing, and Machine sync. Also, the 4640 display is also not fully compatible with the John Deere Rate Controller 2000 at this time.
Forum post about John Deere Monitor
2600 to 2630 upgrade, is it reasonable?
Minuteman Farmer:
Hearing the talk about 2600's not being supported by Deere in the near future, maybe 2017 or 2018. I don't think that's the end of the world for us with what we do, but think my 2600 value would be higher now vs 1-2 years from now. I've got a 2600 on SF2 with swath control activations and a 3000 receiver. With trading in my 2600 I can get into a 2630 for $4,000. To upgrade to RTK would be another $5,000.

Currently using the 2600 to plant with row shut offs and mapping and then also yield mapping/guidance during harvest. NH3 is put on by a neighbor on RTK, so going to RTK would line me up better on the strips....or I have considered starting to the NH3 myself. Could keep the 2600 and put it in our spraying tractor but then would need another globe, ATU, and likely would need another guidance unlock for the new receiver if I didn't do the transfer because I kept the 2600. Imagine that would get costly.

So 4,000 to get into a 2630 and another 5,000 to get into RTK. Just looking on whether or not folks think its worth it and whether or not now is as good as time as any to do it.

Mr.G:
Never had a 2600. Went from brown box to 2630. From what I've been told, the 2630 upgrade in and of itself is worth it. Easier to use, internal memory, maybe more but I'm not sure.
I like the 2630. Coming from antique to new it was easy to get acquainted with.
Does this answer your question? Probably not. But just know that the usability of the 2630 isn't something you'll regret.

WEEDO:
After November you will not be able to transfer activations from the 2600 into another 2600 or 2630. If your 2600 quits after november it is a paperweight with $6500 worth of activations stuck in it. If you are thinking about trading up now is the time to do it. $4000 to trade up is not a bad deal at all.

deeretech14:
I just got back from my dealer and was quoted $3600 to move into a used 2630 and upgrade my current activations. It sounds to me like the 2600 is going to go the way of the old "brown box" in that, it will still be usable, you just can't add to or change the activations after the set date (my guy didn't know for sure, I told him to keep me informed). Thought that I had on the way home was, I have the display and all activations insured privately. If it takes a tumble out of my arms on the way out of the cab in a couple years and gets damaged beyond repair that might be the same cost as updating now. My touch screen is not working 100% anymore so trying to decide if I should fix this one or trade it gets a bit more complicated. Hate to throw good money after bad.

Boery:
I have the same thoughts in my mind.
I could be wrong but I do not believe that there will be a successor for the 2630 display - as it stands today.
In some extend there is already a successor of it - the Gen.4 4600 display.
What it means for me that the classical move around displays will be slowly disappear from the machines and we will see more fixed displays instead.


John Deere 2600 display vs. JD GS3 2630 Display
EvanT17:
we are looking at displays to get for our 8400 that we will be running on our planter next year. I was wondering if it's worth it to pay the extra money to get a 2630 or if we should just get the 2600. I guess I'm not entirely sure what the cost of the 2630 is but they quoted us 3500 for a used 2600.

jwedel1777:
The 2630 will be about $6,000 from the JD dealer. In most situations, a 2600 display will do 97% of the things a 2630 will do, so it's not a major improvement worth $2500, in your case.

jdaussie:
2630 much better value, No Flash card to crap itself, can edit mistakes, much better and brighter display, you can run 3x video cameras if needed, can lock out employee's from changing data, utilize swap track between 2 guidance types/lines, much improved performance, compatible with new products on market, for example Dry Rate controllers, Remote Display Access, Wireless data transfer.

If your only doing basic autosteer than 2600 will be fine but if your looking at future and needing possible grunt from the display I would recommend the added investment

robmgrig:
I have a 2600 in a New Holland tractor with a Kinze planter. The 2600 is not able to run the Rawson hydraulic drive variable rate planting and control the row shutoffs. It can do one or the other. Something about not not being able to see one planter (Rawson drive) and 12 individual planters (row shutoffs) at the same time. So for planting I have to rent a 2630. If you just want to use it for planting and want to use auto steer and swath control it makes sense to just rent a unit ever year rather than pay for a new monitor plus all the unlock codes

John Deere 2630 display vs 4640 display in S670
rfoster225:
Considering purchasing 4640 display with auto track as opposed to activating auto track on the 2630 display. Any experience using 4640 display on combine?

johndeere88:
works really well in the S670 machines. I personally like it with JDLink Connect over the 2630 because it is live streaming (with cell lag) your data back to Ops Center all the time. You can see yield maps right away vs waiting until the end of the field. Plus the data that a 4640 generates has more data points for analysis later on. Overall, the 4640 is also easier to get on to for running and makes a lot more sense for the logic in the menus compared to the 2630.

jcalder:
I've only ever used a 4640 in an S780 demo but I did like it. The UI would be easier to operate once you're used to it as compared to a 2630, although since I've been using 2600's and 2630's since 2006 it did feel weird and different. I think it'd be easier to get used to though.

I don't think the S600's have native support for a 4640 like an S700 does, the 4640 will work fine but I believe it'll work like an emulated 2630, kind of like if you put a 4640 into an earlier R series sprayer.That's my understanding from when we discussed trading our 2630's for 4640's. We decided to keep our 2630's. (For now anyway)

Do you want to quickly know the product quotation you need?
Fast Quote
Worldwide Shipping
12 Months Warranty
Customize Service
Please send your message to us