6AV2124-0MC24-0BX0 Siemens HMI TP1200 Touch Screen Panel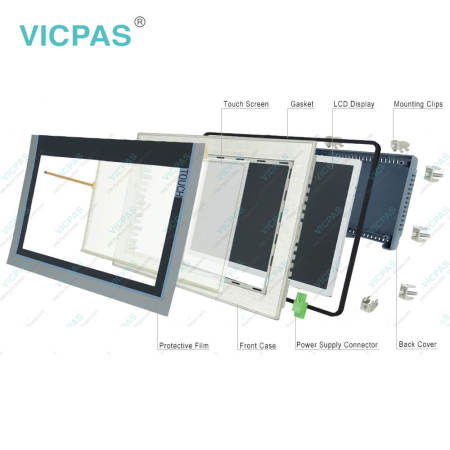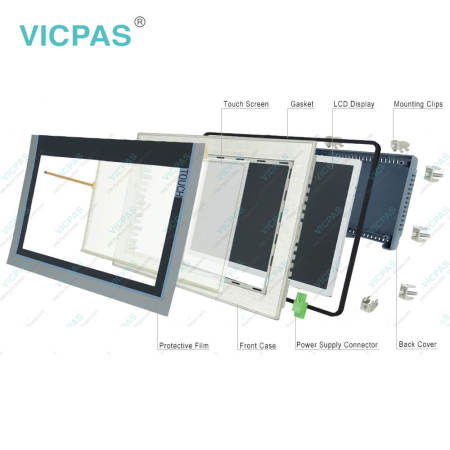 | | |
| --- | --- |
| Categories | SIMATIC TP Comfort |
| Brand | VICPAS |
| Model | 6AV2 124-0MC24-0BX0 |
| Brand | Siemens |
| Siemens | Product Line |
| Product Line | TP1200 Comfort |
| Supply | Siemens TP1200 HMI Touch Panel LCD Display |
| Size | 12.1 inch |
| model | 6AV2124-0MC24-0BX0 |
| Parts | Touch Screen Panel, Protective film, LCD Display |
| FOB port | Guangzhou, Shenzhen, Hongkong |
| Terms of Payment | Western Union, MoneyGram, T/T, Paypal, PayPal, Credit Card |
| Download DOC | |
| Update Time | Dec 7,2023 |
6AV2124-0MC24-0BX0 Siemens SIMATIC HMI TP1200 Comfort Pro 6AV2 124-0MC24-0BX0 Touchscreen Glass, Overlay, Cover Body, Gasket, Power Supply Connector, Mounting Clips and LCD Display Repair Replacement
Order each part separately is available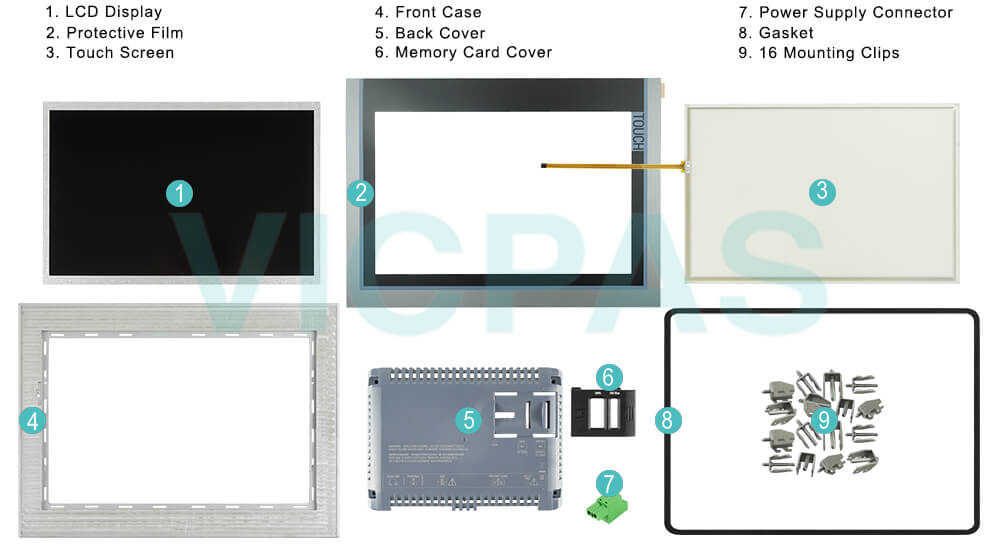 SIMATIC HMI TP1200 Comfort INOX Stainless steel front, Continuous decorative film, Degree of protection front IP66K, 12" Widescreen TFT display, PROFINET interface, MPI/PROFIBUS DP interface, 12 MB configuration memory, Windows CE 6.0, configurable from WinCC Comfort V11
6AV2 124-0MC24-0BX0 Siemens TP1200 Comfort Panel with glass touch screen and powder-coated, UV-resistant aluminum front are designed for use in indoor and outdoor areas, for example, in the fields of Oil&Gas, Marine or Refrigeration Technology. All devices offer the same excellent functionality and are configured exclusively with the innovative software for Siemens TP1200 HMI, WinCC. The engineering software is integrated in the engineering framework, "Totally Integrated Automation Portal".
6AV2124-0MC24-0BX0 Siemens TP1200 Comfort HMI part includes touch panel, protective film mask, Power Supply Connector, Gasket, Mounting Clips, HMI Case and display, which is part of the Simatic HMI TP700 PanelView Standard terminal series. It can be used for repairing old operator panels. The Siemens TP700 display design with TFT LCD, in contrast to passive-matrix LCDs or simple, direct-driven LCDs with a few segments. It has a 12.1-inch display with a resolution of 1280 x 800px, which makes it ideal for applications in brightly lit locations. Besides, the LED backlight of the display lasts for up to 80,000 hours at 25 centigrade.
VICPAS supply 6AV2124-0MC24-0BX0 Siemens TP1200 comfort touch panel, Overlay, Mounting Clips, Power Supply Connector, Aluminum Front, Plastic Back Cover, Gasket and LCD display. All of them with VICPAS 365 days warranty and support Urgent Worldwide Shipping.
Product Video:
The video below describes the product details of the 6AV2124-0MC24-0BX0 SIMATIC HMI TP1200 COMFORT INOX Touch Panel Glass, Overlay, Cover Body and LCD Display Repair Replacement Siemens TP1200 Comfort HMI parts, including touch screen panel, protective film, cover body with lcd display.
Specifications:
The table below describes the parameters of the 6AV2124-0MC24-0BX0 Siemens TP1200 Comfort HMI Parts.
| | |
| --- | --- |
| Part Number : | 6AV2124-0MC24-0BX0 |
| Touchscreen: | colour LCD display |
| Display | " TFT-LCD dynamic color screen |
| Warranty: | 365 days Warranty |
| Product Line: | Siemens TP1200 Comfort |
| | |
| --- | --- |
| Active power input, typ.: | 20 W  |
| Mounting position: | vertical |
| Key Features: | Touch screen support |
| Language: | Worldwide |
| Type of supply voltage | DC |
Related Simatic TP1200 Comfort Part No. :
Siemens TP1200 Comfort HMI Manuals PDF Download:
FAQ:
Question: What is the 6AV2124-0MC24-0BX0 Siemens TP1200 Comfort HMI parts price?
Answer: Submit a fast quote, send VICPAS an email for best price.
Question: How Should we do before update or reset the Siemens TP1200 Comfort Panel??
Answer:Before Siemens TP1200 making an firmware update or reset you should correspondingly make a backup of this data using ProSave and the ALM.You should do a reset to factory settings by preference for repairing operator panels with damaged operating systems that are otherwise no longer operable.
Question: Which software for 6AV2124-0MC24-0BX0 Siemens TP1200 Comfort to program?
Answer:For configuring the PRO devices you need the WinCC software as of WinCC V15 (TIA Portal) or WinCC V14 SP1 (TIA Portal) with one of the following HSPs:HSP 0226 HMI TP1200 Comfort PRO" for 12" PRO devices.You can find the software under Technical Support on the Internet.

Question: What is the size of 6AV2124-0MC24-0BX0 Siemens TP1200 touch panel??
Answer:The Siemens TP1200 Comfort TouchScreen is 12.1-inch.It is 280 millimeter long and 182 millimeters wide.
Common misspellings: 
6AV2124-MC24-0BX0
6AV2124-0C24-0BX0
6AV2124-0M24-0BX0
6AV2124-0MC4-0BX0
6AV2124-0MC2-0BX0
6AV2124-0MC240BX0
6AV2124-0MC24-BX0
6AV2124-0MC24-0X0
6AV2124-0MC24-0B0
Do you want to quickly know the product quotation you need?
Fast Quote
Worldwide Shipping
12 Months Warranty
Customize Service