2711-K14C14 PanelView 1400 Membrane Keypad Keyboard
| | |
| --- | --- |
| Categories | PanelView 1400 |
| Brand | VICPAS |
| Model | 2711-K14C14 |
| Brand | Allen Bradley |
| Warranty | 365 Days |
| Product Line | PanelView 1400 |
| Size | 14 Inch |
| Supply | PanelView 1400 Membrane Keypad Swtich |
| Parts | 2711-K14C14 Membrane Keypad Switch |
| FOB port | Guangzhou, Shenzhen, Hongkong |
| Terms of Payment | Western Union, MoneyGram, T/T, Paypal, PayPal, Credit Card |
| Download DOC | |
| Update Time | June 8,2023 |
2711-K14C14 PanelView 1400 Membrane Keyboard Keypad Switch Repair Replacement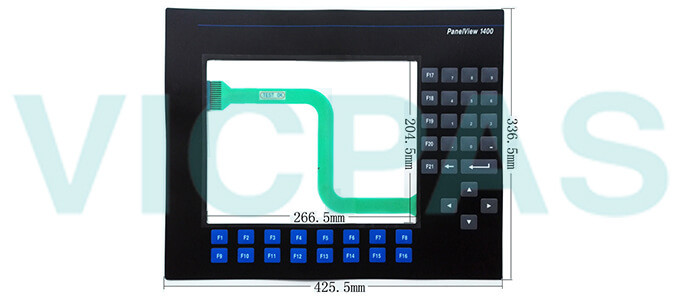 The Allen Bradley Panelview 1400 2711-K14C14 Modbus is a standard multiple layer momentary graphic overlay membrane switch. It consists of both top switch and lower switch and has a NEMA 4 IP67 rating. This switch has the ability to offer a degree of protection both outdoors and indoors, securely protecting the device from falling dirt, pressurized water, and submersion in water.
VICPAS supply Panelview Standard 1400 2711-K14C14 membrane keypad switch for repair replacement, make the HMI running. We provide a 1-year warranty of the most product, which include most of touch screen panel, membrane keypad, LCD display and protective case shell housing.
The Allen Bradley Panelview 1400 2711-K14C14 is one of a kind membrane switch. This device is low priced and well built, with a design that fits into different setups and provides top security services, and a NEMA IP67 rating that points to its ability to provide excellent security against water and dirt. With a weight of 44.77 pounds (or 20.3 kilograms) and dimensions of 13.97 x 19.0 x 15.53 inches (355 x 483 x 394 millimeters), it is a durable and solid panelview.
Specifications:
The table below describes the parameters of the 2711-K14C14 PanelView 1400 membrane keyboard keypad switch.
| | |
| --- | --- |
| Part Number : | 2711-K14C14 |
| Product Line: | PanelView 1000 |
| Screen diagonal | 14 in |
| Warranty: | 365 Days Warranty |
| Input Power | 24 VDC |
| | |
| --- | --- |
| Software: | Panelbuilder 32 |
| Operating Temperature: | 32-131 F (0-55 C) |
| Input Type: | Keypad |
| Communication: | Remote I/O and RS-232 Printer Port |
| Display Dimensions | 10.0 x 7.5 in (255 x 191 mm) |
Related PanelView 1400 Series Part No. :
Siemens KP300 Series
Description
Inventory status
6AV6647-0AH11-3AX0
SIMATIC HMI KP300 BASIC MONO PN
In Stock
SIMATIC HMI KP300 Series
Description
Inventory status
FAQ:
Question:What are the status indicators for 2711-K14C14?
Answer:2711-K14C14 has two indicators: a green COMM indicator and a red fault indicator.
Question: What is the voltage rating of the 2711-K14C14 Allen Bradley ?
Answer:The 2711-K14C14 has a voltage rating of 85 to 264 Volts AC.

Question:Does the 2711-K14C14 Panelview 1400 have a replacement backlight?
Answer:Yes, the 2711-K14C14 has a replacement backlight, although different series have different replacement parts. 2711-K14C14 has the following replacement part number: 2711-NL4, Series B: 2711-NL6, Series C: 2711-NL7, Series D, and Series E: 2711NL9, and for Series F: 2711-NL10.
Question:How many touch cells does 2711-K14C14 have?
Answer:2711-K14C14 has 384 touch cells in 24 columns by 16 rows. The touch cell size is 33 x 37 pixels.
Question: What is the 2711-K14C14 PanelView 1400 touch screen panel price?
Answer: Submit a fast quote, send VICPAS an email for best price.
Common misspellings: 
27l1-K14C14
271l-K14C14
2711-Kl4C14
2711-K1AC14
2711-K14Cl4
2711-K14C1A
Do you want to quickly know the product quotation you need?
Fast Quote
Worldwide Shipping
12 Months Warranty
Customize Service